Social Media Tips For #FWConf13 Attendees
---
---
If you're like us then you must be super excited for the start of the first annual Food and Wine Conference in Orlando. Since this conference has a strong Social Media focus we thought we would share some tips to help you get the most out of the event both offline and online.
Know your Social Media Limits
Twitter seems to be the most limiting platform in regards to updates. They limit image updates (fed from Instagram, twitpic or directly through Twitter) to 30 per day. You also need to be careful not to land yourself in Twitter Jail. Twitter's way of disabling your account for a while because you've either Tweeted more than 100 Tweets in an hour OR Tweeted more than 1,000 Tweets in a 24 hour period.
Follow The Event Hashtag
The official event hashtag is #FWConf13. You can use dashboards like Hootsuite or our personal favorite, MarketMeSuite to create a real-time search for the hashtag so you can enjoy Tweeting with fellow conference attendees and meet new people all attending the same event you are at! You can also follow along with the conversation on the event app, EXMO under "Social Feed"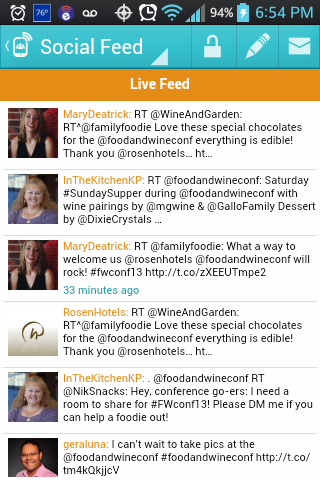 Know Where You Can Track The Hashtag
You can track the #FWConf13 hashtag on Facebook, Twitter, Pinterest, Vine, Instagram, Google+ and even on Google!
Know and Love IFTTT
IFTTT (If This Then That) allows you to make "recipes" like feeding an Instagram picture tagged with #FWConf13 to your Facebook Fanpage as well as thousands of other capabilities.
Know The Speakers and Sponsors Twitter Handles
Get to know the amazing people that have made the conference amazing (there will be a handout with this information available).
Don't Forget Your Chargers!
Live In The Now!
Although it's great to Tweet every aspect of the conference make sure you're also taking the time to really get some face to face time in with all of the people you already know online. This is your opportunity to shake the hand of those people you've come to love, but have never had a chance to meet until this conference.
Lastly
You can follow us online on Twitter (@KiMediaStrategy) or on Facebook!
Comments
---
---