Take Your Social Media Mobile With These Helpful Apps
---
---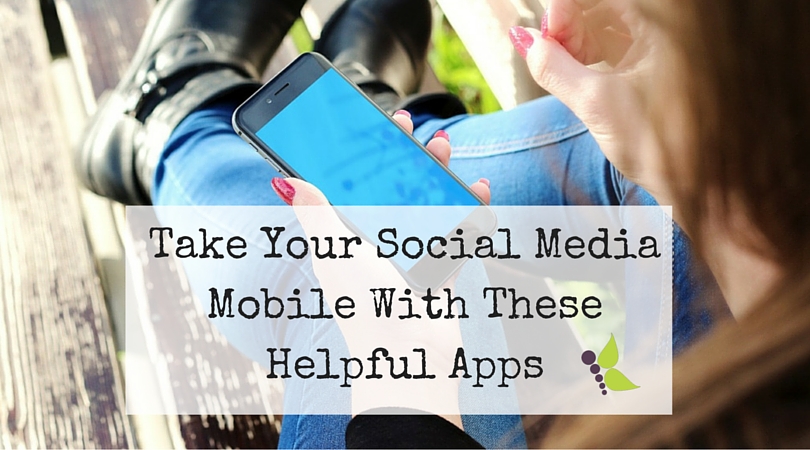 It's summertime and no one wants to be in a stuffy office let alone behind a desk so why not take one of the tasks you do every day mobile? It's pretty easy to do, with the exception of one or two hiccups, but we'll get to those in a bit. Right now we're going to share with you all of our favorite apps that we actually do use on a daily basis when our clients have us working out of the office.
Social Media Management Apps
Facebook Pages
Twitter (native app for personal account usage)
Echofon (for all client Twitter accounts)
Hootsuite for scheduling directly from the web or content curation platforms
LinkedIn's native app for personal accounts
Pinterest's native app
Social Report for deep analytics as well as goal conversions etc…
Sprout Social (we use this for a few accounts based on necessity)
HubSpot (this is used for one of our clients currently & we love it)
Facebook Ads
Instagram's native app
Snapchat's native app
Google+ native app
Tailwind for Pinterest scheduling
Photo & Video Editing Apps for Social Media Sharing
Let's all face it, we live in a world where pictures and video not only say a million words, but they also get much more attention socially. Gone are the days where we are sitting behind our Macbook's constantly editing in Photoshop, instead we are finding ourselves relying more and more on mobile apps to help us edit on the go.
Here are some of our favorites that we use weekly:
Adobe Lightroom – for overall photo editing
Pic Stitch – for flawless collages
InstaFit – for those pics that don't quite fit Instagram's dimensions
Color Pop
Piclay Pro
iWatermark – quickly adding a client logo or watermark to images
Little Moments
Colorburn – they literally have every filter a person could desire
Video to Gif – to create gif's
Live Edit – to create videos from iPhone Live photos
Mobile Content Curation
We only curate content two ways via mobile:
1. Google search
2. Apple's News app
Difficult Tasks
There are some tasks that do become difficult to do via mobile.
Google Alerts aren't the best which is why we don't rely on them for curating content when we're on our mobile devices and LinkedIn has no easy way to update company pages or to manage/monitor ads being run which is a real shame.
So there you have it….how do you take your social media management mobile? What fun apps are you currently using and loving?
Comments
---
---