International Women's Day at KiMedia Strategies
---
---
"When women support each other, incredible things happen."
I have had the pleasure of having Tara working with me for just over a year now. Not only does she do beautiful work, she also is one of KiMedia Strategies' biggest cheerleaders. She wants to see this woman owned business succeed, which is what women should want for one another, right?
Learn a little about Tara Anderson, Digital Creative Director, KiMedia Strategies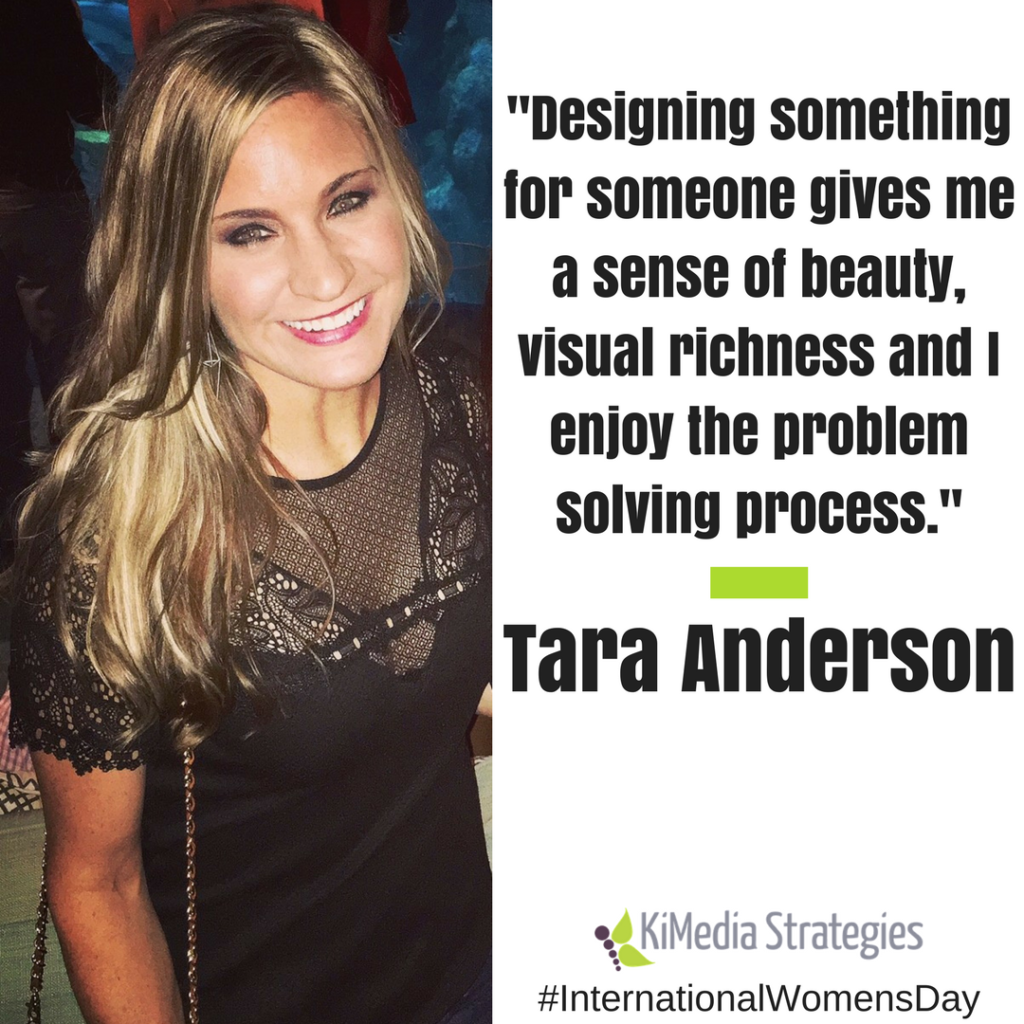 Tara Graduated from Ohio Northern University with a Bachelor of Fine Arts with a concentration in design. In 2003 she pursued a career in Visual Merchandising at the Macy's  Flagship Store in Columbus, OH where she worked until 2006 when she took a position at Nordstrom as a Visual Merchandiser and specializing in Men's Fashion until  2015. In 2015 Tara made another career move and took a position at The Exchange as a Visual Merchandiser.
2016 is the year Tara came to KiMedia Strategies. Tara is part time with us and still holds her position at The Exchange while creating beautifully designed graphics for our client marketing campaigns. Tara loves the face pace environment of the marketing design, visual merchandising, & social media world.  She enjoys the latest news and emerging trends in social media and digital marketing & finds it exciting and challenging to be able to deliver the best design message for a client by giving them a voice through social media marketing.  "Designing something for someone gives me a sense of beauty, visual richness and I enjoy the problem solving process.", says Tara.  "People are attracted to beautiful, exciting things and so am I. "I'm able to create this through the use of designing on a computer or working with my handing to build that perfect beautiful display."
"The world I work in is competitive and fun and that's what drives me, I'm drawn to the fundamentals and principles of design; color, shape, texture, space, form, harmony, balance, hierarchy, scale, dominance, contrast."   Tara has always had an interest in graphic design and building beautiful creations, starting at a very young age.
"In the world of design, it is something you continuously practice at until you get better and better at it."  "Design is all around us!"
I can honestly say that KiMedia Strategies would not be company it is today without Tara's eye for design so thank you, Tara! Thank you for helping me/us achieve great things. Thank you for helping our clients tell their story through visually beautiful designs shared on the social web.
Happy International Women's Day!
Comments
---
---