The St. Louis Blues Shoot and Score With Their Social Media
---
---
---
It started out as a typical day on the Interwebz….
---
Wake up, check email, get on Twitter, and then head on over to Facebook. I had to know what all of my connections were up to and what was new in the world. Where else do you get everything in one place anyways? So here I am scrolling through my news feed when I see a post from my favorite hockey team, the St. Louis Blues regarding their journey to clinching a spot in the Stanley Cup playoffs. I immediately noticed something , being the Social Media geek that I am, that I found to be a pleasant surprise… They were using a reasonably priced Social Media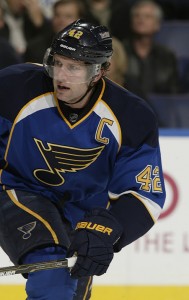 management and monitoring tool called Sprout Social. One of the many tools we at KiMedia Strategies also use for our clients to measure ultimate success. I thought all large companies and especially professional sports teams would be using the extremely expensive tools like radian6 or Wildfire, and immediately wanted to know more about their strategy on how they came to use this tool.
I simply sent a message to them on their fanpage (see how to message brand pages here) and by the end of the day received a message back saying that they would love to answer a few questions and to shoot them an email, and I did, but not before I texted one of my best friends (and the genius that came up with the title of this blog post), Chrissy. She's one of the biggest St. Louis Blues fans I know… Seriously.
(Thanks, friend)
Below is the Q&A exchanged between myself and the Director of Marketing Communications for the St. Louis Blues, Scottrade Center and Peabody Opera House, Matt Gardner.
Kim: How long have you been using Sprout Social?
Matt: We started using Sprout Social in February. We evaluated a number of different products and felt that Sprout Social was the right mixture of monitoring and management for our team, in addition to providing a fair amount of analytics to keep us on top of our social accounts on a daily basis.
Fact: KiMedia Strategies fell in love with this tool in June of 2011 and has never looked back!
Kim: Did you or do you use any other Social Media monitoring, analytics and management tool?
Matt: We use TweetDeck for its simplicity and ability to quickly monitor brand sentiment. We not only manage the online presence of the St. Louis Blues, but also Scottrade Center and Peabody Opera House, so it's nice having everything quickly at your finger tips to watch @Mentions, brand hashtags and general references to our brands.
Fact: KiMedia Strategies uses a mixture of tools to monitor and manage client campaigns including (but not limited to) MyVBO.com, MarketMeSuite.com, Monitter.com, echofon, and of course SproutSocial.com
Kim: There are obviously more expensive and indepth platforms to use, why Sprout Social?
Matt: I'm a big believer of understanding your brand(s) strengths and weaknesses and felt we needed to identify how we were viewed as a brand in the social space before diving too far into a more robust platform that may have features we don't need. Sprout Social gives us the snapshots of our social presence that we were looking for and is helping us define where we need to take our brands within the social space.
Fact: We like the way Matt thinks and couldn't agree more!
KiMedia Strategies: Sprout Social is a social media management tool created to help businesses find new customers & grow their social media presence. We absolutely love the analytic reporting feature. It allows us to easily monitor and compare what content generates the most engagement and who we're reaching which then allows us to more effectively tweak our campaigns and customize them. Social Media is about engaging and creating conversation and we are able to see more clearly into what our clients connections want from the brand ultimately helping pave the path to Social Media success.
Kim: Besides Facebook and Twitter, where else can we find the St. Louis Blues on the Social Web?
Matt: So far in 2012, we've expanded our social presence and can also be found on YouTube, Google+, Foursquare, Pinterest, LinkedIn and Instagram.
Fact: Matt Gardner started with the St. Louis Blues at the beginning of the year. They're currently, per Matt, in the infant stages of developing a lot of their social strategies. He has stated that once the season wraps up they will begin strategizing  the direction their social presence will take for the 2012-13 season and beyond. Matt and I both agree that you should connect with the St. Louis Blues on the platforms below!
St. Louis Blues on on Pinterest
Question For Everyone:
Do you use any tools like Sprout Social?
One more thing….
Let's Go Blues!!!
Comments
---
---